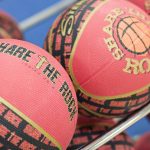 Registration has begun for New Life CRC and Mercy Hill boys basketball camp this July 18-19 at the Lincoln Center (2450 Lincoln Street) in Highland, IN.  Coach Dan Voudrie from Purdue University Calumet will lead camp for boys in grades 3-8.  Coach Voudrie is a veteran college basketball coach with over 20 years of experience directing basketball camps around the Midwest!
Camp is open to the first 120 registrants only.
Early registration closes June 30!
Download the brochure:
Click Here for the 2016 Share The Rock Brochure.pdf