Japanese Ministry Leader: Rev. Masao Yamashita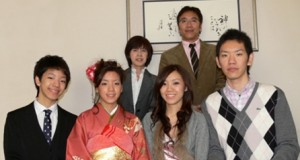 Masao Yamashita was raised in a Buddhist family. At age sixteen he borrowed a book from his sister who was taking a Great Literature course at school. The book was a Bible. Masao read it, felt God speaking to him, and began attending a local church started by Christian Reformed missionaries. He also began listening to a Back to God Ministries Japanese radio program—Morning Word. A year later he committed his life to Christ and was baptized.
Rev. Yamashita studied at Kobe Reformed Seminary and then graduated from Calvin Theological Seminary in Michigan. He returned to Japan to pastor the Tsukuba Mikatoba Reformed Church until 1998, when he was called to be the Japanese ministry leader for Back to God Ministries International. He now produces the same program that helped bring him to Christ as a teenager!
In addition to overseeing the multi-media outreach ministry in Japan, Rev. Yamashita coordinates ministry with the Reformed Church of Japan, and frequently preaches in local churches.
Masao and his wife Tomoko have four children, three of whom are married.
Reaching Japanese-Speaking People Through:
7 audio programs delivered by phone or the Internet (5 also accessible by radio)
Dynamic cell phone ministry
Bible study correspondence and discipleship materials
An interactive website that includes a social networking service and a children's program
Daily devotional online and by cell phone subscription
Making an Impact in the World:
Reaching people in Japan and in nearly 60 countries where Japanese-speaking people access our programs by Internet
Receiving more than 222,500 interactions each month primarily by Internet and cell phone
People Are Responding:
Mr. Saitama wrote, "I didn't know about your program until now. I recently became interested in Christianity but I still don't feel comfortable going to church. So it is very helpful that I can listen to the program on your website."
Birthdays
Masao: April 14
Tomoko: May 20
Keitaro: December 23
Sayaka: December 11
Hikari: February 14
Atau: September 24
Anniversary
February 27
Address
OCC Building 514
2-1 Kanda Surugadai
Chiyoda-KU, Tokyo, 101-0062 Japan
Web Contact:
Please pray for:
Production of programs that speak in the heart-language of the people in Japan, drawing them to Christ
Discipleship of new believers through online resources and partnerships with local churches
Seekers and "secret Christians" that they may be bold to make a commitment to live for Christ
Biblical resources for children