Healthy Attitudes: Tragedy
April 15, 2012 AM Sermon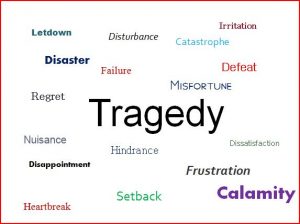 Sermon: Lamentations 3:19-24
[19] I remember my afflictions and wonderings, bitterness and the gall. [20] I well remember them, and my soul is downcast within me. [21] Yet this I call to mind and therefore I have hope. [22] Because of the LORD's great love we are not consumed, for his compassionate never fail .
Sermon By Pastor Bill
April 15, 2012
Highland IN New Life Christian Reformed Church
Background: Israel is headed away from home and the temple. The prophet is crying out to God and longing for home.
In this sermon you will learn the limitations to preventing tragedy, however hard we try to prevent it. As an unavoidable circumstance we live in a world infected by sin. Do you remember your wondering, your affliction, your bitterness, your gall?
How do we approach these situations with the right attitude. How do you respond to tragedies; with those moments that cause us to weep; the events that cause long lasting repercussions. In this sermon the pastor articulates that when we face such tragedies and trails of life, no matter how we categorize these times, the times that cause us to take our eyes off God, provide a new opportunity to see Gods grace and instruction as not part of the original plan. The key to a healthy outlook on tragedy is to neither dwell nor forget your tragedy, but to recall, as the scriptures teach that God's great love will not fail. To hold onto, even if only intellectually, the reality of God's love, that it may migrate into our hearts. Give God the opportunity to bring his joy in the morning.