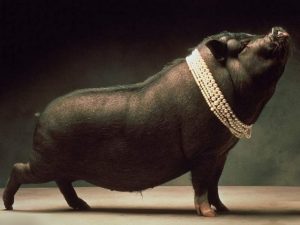 Sermon Preview:
Text:  Matthew 7:1-6
Date:  September 2, 2012
 Listen to audio: September 2, 2012 AM Sermon
Even though pearls can be precious and valuable, their beauty is something that pigs miss.  If you give a pig a pearl, he will probably want to eat it.  And when the pig tries to eat it, he will probably get angry at you because you gave him something that he didn't want in the first place – in spite of your good intentions.
When teaching His disciples about confronting others, he uses a strange illustration that involved pigs and pearls.  Jesus is teaching us to use our words carefully.  Even when we have the best of intentions, people may not appreciate the wisdom and insights that you share.